Document Storage in Portland
The business records of every company are simultaneously of great value and pose a great threat. They can be used to help make informed decisions but if mismanaged can be used against the business. It doesn't make sense to pay employees to search for documents. That's why we provide Portland document storage solutions.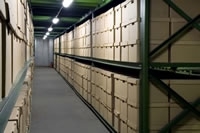 Your records can be stored online in a digital format or in an off-site facility in a physical format. Our secure storage partners are equipped with state-of-the-art security systems to ensure that our customers' records are protected at all times. Let the providers focus on securely storing your records, so you can focus on your business.
To get free, no obligation quotes on long-term document storage, give us a call at (503) 334-0680 or fill out the form to the left.
Portland Document Storage Service Options
Here are some considerations to look for when you're selecting a document storage provider for your documents:
Simplicity & Cost Savings
Are you using your office space to maintain records and information? A document storage service helps you free up expensive office space, giving you room to add more usable space and enhance the productivity of employees who maintain your documents.
Access Control
Security and access control is crucial to keep your files out of the wrong hands and away from prying eyes. Documents that contain personal or confidential information should be secured and accessed by authorized personnel only.
Secure records storage facilities only allow authorized persons to access and retrieve stored files, making it a viable solution for securing confidential files, personnel records, and important files related to your business.
Climate Control
Our document storage facility provides temperature and humidity controlled storage for all types of document formats. This means that you have the ability to store any type of file. You also don't have to worry about degradation or destruction due to the environment. We can store a variety of items, including paper, film, x-rays, magnetic tapes and more!
Get Free Quotes on Document Storage in Portland
Portland Document Scanning can help store your records online in a digital format or in a secure off-site facility. We will save you money on storage space and also maintain them in a secure, climate-controlled facility. To get free quotes, give us a call at (503) 334-0680 or fill out the form.